14/10/2021 Josephine Keuter
Keeping Up with the Real CEOs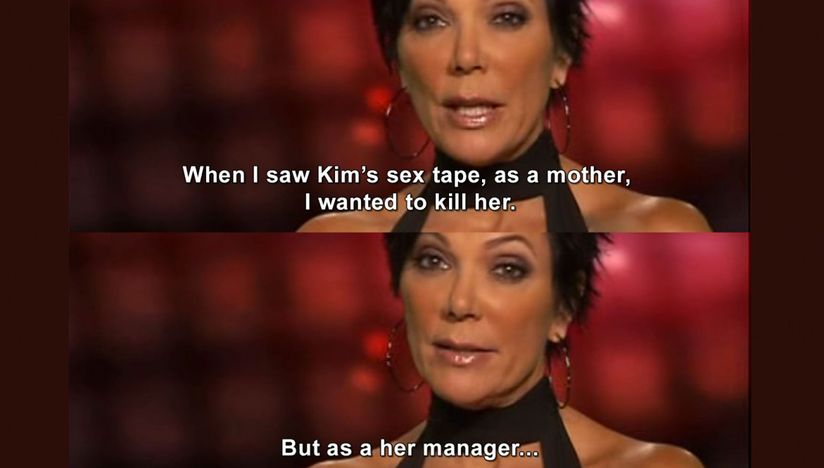 This column was presented by Josephine Keuter during the event 'From Housewife to CEO. Evolving Female Entrepreneurship in the 20th Century and Beyond'
By bringing Kourtney, Kim, Khloé, Robert, Kendall and Kylie into the world, it seems to me that Kris Jenner has done enough good deeds. But, thankfully, she proves to be the gift that keeps on giving. Not only has she given birth to this amazing family, that we got to know on their reality show Keeping Up with the Kardashians, she also gives amazing business advice. Her style can be characterized as blending motherly love and rock-hard busines-resolve, evident from her many iconic quotes circulating the internet. She tells her daughters "You're doing amazing sweetie" when they pose for Playboy, and "If someone says no, you're talking to the wrong person." Trademarking the term "Momager" she fits her business philosophy into a single perfect quote, right after she learns about the leaking of Kim's sex tape, as she says: "As a mom, I wanted to kill her, but as a manager, I knew I had a job to do."
Kris Jenner, while rooted in her jobs of housewife and mother, is also a CEO, and has given birth to CEOs; her youngest daughter Kylie was controversially named a self-made billionaire by the age of 21, raking in money from the make-up line started after she used fillers to enhance her own lips – sparking a global frenzy for larger lips, controversy for cultural appropriation, and success by smart marketing.
Kim Kardashian, another one of Kris Jenner's successful daughters, has risen from the ashes of her sex-tape scandal, and has cleverly turned the focus on her body into multiple successful businesses, the latest one being her shapewear line SKIMS, which promises to make every woman feel confident and secure while every body-roll is denied its existence.
Across channels, moving from E! Entertainment Network where The Kardashians aired, to a network called Bravo – there exists another ensemble cast of women who have been working from home long before the pandemic hit. They are called The Real Housewives. Much like Kris Jenner's multiple roles, these Real Housewives are not just housewives and moms, they have become CEOs by turning their reality TV visibility into actual profit. They seem to have cleverly flipped the tables on expectations of women, simply by taking the very private sphere of the home, traditionally a place that restricts women, and turning it into a public space, inviting viewers to observe their homelives and lifestyles, and ultimately buy into it. In this way, one of the most limiting places for women, the home, becomes the place where power and value is generated. And this is something to be celebrated, but not without some heavy sidenotes.
The Kardashians and the Real Housewives, and the influencers that came after them like our very own Monica Geuze or Nina Pierson, sell products, sure, but they ultimately sell themselves. Their bodies, lifestyle, and homelife are the basis for their fame, and the basis of their businesses. Their personal brands make them CEOs of their own life, but all of it is rooted in the feminine sphere – right now, on The Real Housewives of Potomac, a town not far from Washington DC, there's a competition going on between Karen, who sells 3-wick candles, and Wendy, whose candles only have one wick – it's a riveting rivalry, and I implore everyone to tune in. But it's not just candles, it's shapewear lines like SKIMS, a line of food and beverages promoting skinniness with its title Skinnygirl, skincare and make-up lines that promise to enhance lips and hide your veins, and lines of jeans that promise you'll look sexy in every pair.
Unfortunately, what seems to have happened is that the power of these CEOs is bound to businesses that deal in women's insecurities. Every product is tied to either the home or the female body, with a focus on continued improvement. To sell products, they need to remind other women that there are enough areas in their lives that could do with a little concealer, shapewear, or extra decoration. While there might be some progress in their move from housewives to CEOs, this progress is still tied to restrictive and harmful expectations of women to always look perfect.
It's hard to tell if this negates their power as CEOs, that might be too hard a punishment, or even an unfair one – would we judge male CEOs the same way? And can we really blame them? Are they not just playing the hand that they were dealt? These questions are all debatable, but it does prove the complexity of progress. Sometimes power is not enough – no matter how entertaining it might be.